Identifying and preventing theft, misappropriation, conversion and accidental misuse of milk trolleys.
Trolley Repatriation
Scheme
The majority of dairy companies in the UK transport their milk in roll containers (Trolleys) and are members of the scheme.
Scheme members work together with the Dairy UK Asset Protection Team to reduce the misuse of milk trolleys throughout the industry and to trade ethically.
Scheme members pay an annual subscription which is determined by their annual volume sales of milk transported in roll containers.
In return the Asset Protection Team works to locate and identify and return missing, converted, stolen and misused trolleys to scheme members.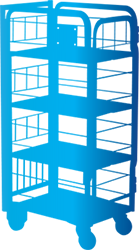 Misuse costs money
If you see it – Report it!
0207 430 0162